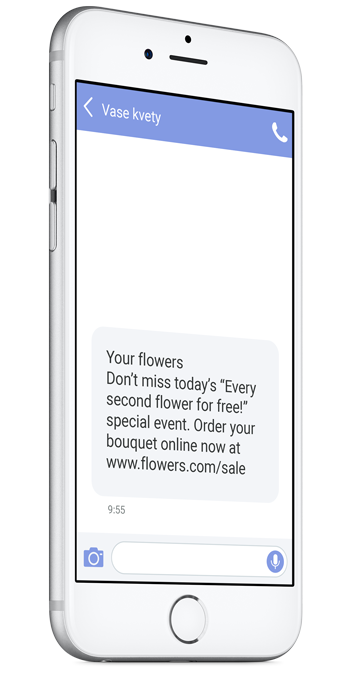 They are suitable for information campaigns of various types. From the promotion of a new product, through information about discounts or various promotional activities to sending information about the shutdown of electricity on your street…
You can send bulk SMS's both to the networks of Slovak operators and abroad.
The sender of the message is your company, so the company name can be listed as the sender, which supports the credibility of the information SMS, increases brand awareness and clarity.
Because you can rely on us, as can hundreds of our clients and partners. In addition, our experience will help streamline your SMS campaigns many times over. It is important not to underestimate the correct wording of the SMS text and the time of sending the SMS, this can increase the responsiveness of the campaign by up to 50%. As part of our services, we will be happy to advise you on setting up your SMS campaigns.
⁄03
Who are they suitable for?
For all entities (companies, cities and municipalities, social organizations, clubs) that have their own database of contacts and need to submit information. infoSMS has a high Call to Action potential, so it is a great channel for current, time-sensitive or otherwise limited offers, deals, events or other activities happening in real time, not in a month or two, but now!
You can enter a web link or phone number in them.
Connect to us via our API interface and manage your spreads from the comfort of your CRM system.
If such a professional solution is unnecessary for you, we also offer other options via our web interface or tailor-made solutions.
You can purchase credit or we will invoice your SMS consumption at the end of the calendar month.
⁄05
I don't have my own database
ViaMobile has a database of more than 2,000,000 users for you in cooperation with mobile operators, which you can address with your advertising message.
Write us your requirements and we will send you an offer.
⁄06
SMS to VIBER application
Send SMS's to Viber app users now. You have up to 1000 characters available to address your user with the option to insert a hyperlink or image. We will be happy to provide you with more information, do not hesitate to contact us.
1.
Contact us at info@viamobile.sk
2.
Choose the method of sending SMS's, either via API or WEB form
3.
We will exchange a mutually signed scan of a simple contract
4.
You will be assigned your own access data to the SMS system