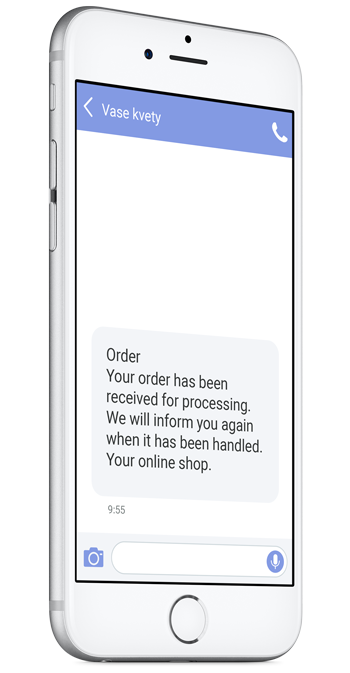 ⁄01
Why notification SMS's?
Let your customers know that caring for them comes first. Send a notification SMS about the receipt, status and processing of their orders.
We have high quality and proven connectivity to mobile operators, which guarantees the high and fast delivery of your SMS's. As part of the SMS priority, we can also ensure the level of bank quality, i.e. the highest degree of SMS delivery speed.
⁄03
Who are they suitable for?
ONLINE SHOPS, BRICK-AND-MORTAR STORES, MEDICAL FACILITIES, CAR SERVICE, REPAIRS, general SERVICES as such, cities and municipalities, communities… – inform the customer, citizen, "club" member about the status of his/her order, new products or discounts, activities and various events…
Connect to us via our API interface and manage your spreads from the comfort of your CRM system.
If such a professional solution is unnecessary for you, we also offer other options via our web interface or tailor-made solutions.
You can purchase credit or we will invoice your SMS consumption at the end of the calendar month.
⁄05
I don't have my own database
ViaMobile has a database of more than 2,000,000 users for you in cooperation with mobile operators, which you can address with your advertising message.
Write us your requirements and we will send you an offer.
1.
Contact us at info@viamobile.sk
2.
Choose the method of sending SMS's, either via API or WEB form
3.
We will exchange a mutually signed scan of a simple contract
4.
You will be assigned your own access data to the SMS system